Client Feedback:
"Thank you for showing me your beautiful country. I have loved the trip so much. I know how much work went into the planning and the execution. It's been amazing….a trip of a lifetime for all of us" - K Rothfield
"What a fabulous time I've had with the lassies. You pulled it all together with such enthusiasm that we got swept up in the craic. A huge thank you again for giving me this fantastic opportunity to see Ireland. I will never forget it…in fact I'll definitely be back" - M Bade
"So missing you and all the girls. What an amazing time…will have to go back day-by-day and look at all we did. Can not thank you enough for all the hard work you put in." -
A Peake
"Thank you for all you have done to make the 2016 lassies golf tour so brilliant and such fun"- N Wilson
"I appreciate all you have done for me very much. This was the most special and fantastic trip, superbly organized, such enormous fun with such a great group of girls. It was a brilliant experience and I am a huge fan of the Irish and Ireland as a result" - C Graves
"If I could wrap all the hugs and kisses it still wouldn't be enough to thank you for the experience of a lifetime. The work you put in for all of us paid off in full. I wouldn't have missed it for the world. Thank you." -
T Marget
"Thank you so much for a wonderful trip and your friendship, Ireland has been good for my soul" - C Shannon
"Dear Hazel, What an amazing tour leader you have been. I have had the most wonderful time with you and the girls. We have visited the most beautiful places. We have covered most of Ireland in two weeks. I will cherish all the memories forever" -
G Morgan
"Hazel, Thankyou for the wonderful golf tour. You are truly a GREAT ambassador for Ireland. Memories forever" - S Vance
"Dear Hazel, we love you and thank you so much from the bottom of our hearts for your amazing organisation. The trip was so beautifully organised. We loved every moment in your beautiful country" - S Paget
"Hazel, what an amazing experience this was and what an amazing and generous host you were. You made this a very special experience" - F Petrakos
"Hazel, thank you so much for organising this trip. I have had the best time and feel very privileged to have been included on this trip" - A Klingberg
"You have done an amazing job keeping us all organised and not losing our disparate personalities along the way. So much fun"-
T Bennett
"How can I thank you, words are not enough. This trip has been fantastic. New friends and memories" - A Hall
"Thank you!! Two small words with a lot of feeling. We have had so much fun and played all or most of the Irish No. 1 courses, besides dining in a castle with Noblemen and staying in a castle. You have given us a wonderful two weeks" - W Pullar
"For a unique Irish adverture join Hazel's "Castles and Links Tour" Experience exclusive entre to Castles, fine dining, top ranked golf links and Irish culture. A once in a lifetime "tour de force"" - Prof J Angus AO
"Hazel thank you so much for a very smooth and fun few weeks – we really enjoyed the experience and on a scale of 1 to 10 you get 10. The trip was fabulous and was such a smooth ride with Hazel at the helm – your pride for Ireland shines though." - D and T Waller
"Hazel your attention to detail, choice of accommodation sublime. You should be proud Hazel. Such a special country so refreshing in such a generic world !! Beautiful people." - C and R Acquroff
"Thoroughly recommend this trip! If you ever dream of playing golf in Ireland this is the way to go!!!. Above all expectations. Hazel is a wonderful leader. - B Pinchbeck"
"We have been on so many golfing trips and this is the best we have ever been on." -
Dr S Marks
"The whole tour was a marvellous mix of golf, wonderful accommodation, meals, fun on the bus, pubs etc Above all I think what you specialise in is the personalised approach.  It is notable that everywhere we went you were greeted with great enthusiasm, everyone went out of their way to spoil us and that is a testimony to you.  I found it all a wonderful experience and thank you for making it so pleasurable.  I would highly recommend your tour to others." -
P Devlin
"What an absolutely fabulous trip we had. Thank you Hazel. No one else would ever have created such an action packed experience. Loved it all." - M Bade
"Thank you for arranging such an amazing trip We had a great time and your selection of accommodation and golf courses could not be faulted Your planning and attention to detail was superb. You even provided fine weather!" Many thanks " - Dr P Cowen
"What a wonderful trip you organized for us- it was just so enjoyable and such fun. I would recommend your tour to anyone who is a keen golfer - I never felt we were playing too much golf at all.  Each course was different and challenging and mostly spectacular scenery. Our accommodation was of a very high standard too, which made the whole experience more enjoyable. You had organized all the golf so well - we never had a worry about times or place in the field- loved having the caddies too. It was such an easy trip to be a part of Hazel - thank you so much; all your diligent work and research has definitely been worth it." - J Coombes
"Dear Hazel, A BIG thank you from us both again for giving us such a memorable Irish experience. Golf, accommodation, dinners and touring all very professionally organized and we truly appreciate your expertise in staging such a comprehensive tour." -
H Angus
"Thank you so much for an amazing experience and tour.  You were extraordinary." - J O'Neil
"I have finally arrived home after an amazing holiday to your country. Every night before I go to sleep I think of each course, very vividly I might add!  I loved every golf course we played. Wish I could do it all again! Your organising skills were immaculate, nothing was left to chance, also your happiness, bubbly personality and friendship, came across very strongly. As I have said the Tour was well above my expectations!      A very Big Thank you for making a dream come true!!" - B Pinchbeck
"Most enjoyable, very well organized, perfect in every way" - K Glenne
Fully Escorted Golf Tours To Ireland
---
The 'Castles and Links Tour' caters to the discerning golfer who is looking for the whole Irish experience including Golf Digest's World Top 100 Courses, luxury accommodation, sightseeing, cuisine and culture - unique and memorable experiences.
Ladies-only and Mixed golf tours travelling all around Ireland
Play the famous world's best golf courses
Exclusive small group luxury experience - 12 maximum
Community connections allow for unique itinerary to discover what it's like to be Irish
Trip of a life time
Be treated to a 'bucket list' dream tour as Irish-born Australian business woman and passionate golfer Hazel Thompson gives you the insider's experience of golf and life in picturesque Ireland.
"For a unique Irish adverture join Hazel's "Castles and Links Tour" Experience exclusive entre to Castles, fine dining, top ranked golf links and Irish culture. A once in a lifetime "tour de force" - Prof J Angus AO
"Thank you for showing me your beautiful country. I have loved the trip so much. I know how much work went into the planning and the execution. It's been amazing. A trip of a lifetime for all of us." - K Rothfield
"Thank you so much for a wonderful trip and your friendship, Ireland has been good for my soul" - C Shannon
Tours in 2019
Mixed Tour 14th July – 31st 18 days. 'Castles and Links' tour right around Ireland and playing 13 top courses and sightseeing (options available in place of golf on 6 of the days). - SOLD OUT 
2019 Mixed Tour 18th August – 1st September - 15 Days – 'Castles and Links' tour right around Ireland playing 12 top courses. - SOLD OUT
Tours in 2020
Due to Covid 19 no tours are taking place in 2020, 2021 or 2022.
Tours in 2023
Currently planning exciting tours for 2023. As well as Luxury Golf Tours there will be non-golfing tours taking in Castles, Gardens, Art, History and Genealogy. Please contact Hazel directly for information and to reserve places.
Register Your Interest
Additional custom tours are available and tailored to your requirements. Whether you are a Golf Club Professional and would like to take a tour to Ireland or a group of friends and would like to travel together around Ireland please contact us for more information. No part of the tour bookings is out sourced - all bookings are made directly by us for all accommodation, golf, experiences and coach. We can guarantee that you will not be able to book a tour with more value with another Australian Tour Operator comparing like for like.
Contact Hazel for more information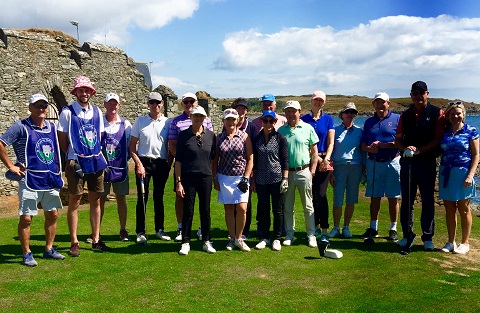 About Hazel Thompson
Hazel spent 25 years in rural Ireland and Belfast. Her life-long passion for golf comes from her parents who are both past Irish golf club Captains and still continue to enjoy their golf at their club in County Tyrone. Hazel is a member of one of Australia's famous sandbelt courses and has deep knowledge of golf in both Australia and Ireland.
Hazel takes time out from her busy business consultancy to design, plan and then host these exclusive golf tours during her annual trips back to Ireland.
About The Tour
The Emerald Isle bids you a hundred thousand welcomes and Hazel brings a wealth of wisdom and connections to ensure you have a golfer's dream trip of a life time. The community connections allow for a unique itinerary delving into the way of Irish life.
There are over 600 golf courses in Ireland. For such a small country Ireland has 34% of all the links courses in the world. Hazel's tours cherry pick the most famous ranked golf courses right around Ireland – North, South, East and West. The small intimate group means less waiting time before tee-off and after finishing the round of golf.
Chauffeur driven in luxury, your golfing extravaganza has you staying in deluxe historic 4 star and 5 star hotels including former stately homes and castles. Enjoy fine dining on delicious locally sourced fresh produce and experience the sights and sounds of unique tourist attractions. Become immersed in the culture, wit and charm by meeting locals in their homes and pubs who will make your heart sing.
The trip is held in peak season, during the warmest weather, in July and August, Hazel's goal is to make your holiday as carefree as possible and can assist you with planning your flights and other travel arrangements before or after the tour.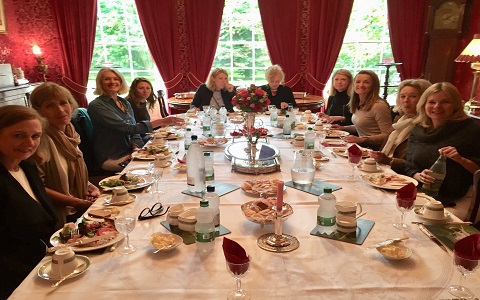 Luncheon at Hazel's Aunt and Uncle's home in County Tyrone.
Example of Golf Tour Inclusions
Tee times and green fees at famous Irish golf courses including Royal County Down, Royal Portrush, Adare Manor, Lough Erne, Lahinch, Portmarnock, Hogs Head, Ballybunion, Tralee, The Island, Portstewart, Old Head, Waterville, Ardglass, Rosses Point, Rosapenna, Waterville, Castlerock, Old Head, Murvagh, Ballyliffen.
Accommodation in luxury hotels including famous Castles and the Leading Hotels of the World.
Luxury chauffeured Mercedes coach with tables, armchair style seating (at least 2 seats per person), fridge, wifi, toilet. An Irish driver that knows all the courses and sightseeing in Ireland. Tour fully escorted by Hazel.
Golf fore-caddies per group at each course
Group golf clinic at top golf Academy in Ireland
Dinners at Michelin star and Red Rosette restaurants including final night dinner with prize presentations
Cruise on lake. Drinks in Grand Drawing Room of Private Castle followed by dinner in the State Dining Room.
Luncheon including cocktails at private castle
Light lunch at some of the golf courses
Visiting Irish homes including private castle (family and friends of Hazel's) to be entertained and discover what its like to be Irish
Entrance fees into all tourist attractions and sightseeing that we attend for example St Patrick's Centre, Causeway coast including Dunluce Castle, Giant's Causeway a UNESCO World heritage site, Guinness House, Viking tour in Dublin, Art Gallery, Cliffs of Moher along the Wild Atlanic Way, Bushmills distillery the oldest one in the world, Book of Kells etc
Welcome Irish goodie bag
Fully stocked bar and refreshments on the coach including snacks
Competition and Prizes
Driver's accommodation and meals
Options and choices available offering a personalised, flexible itinerary
Golf Tour Exclusions
Flights to Ireland
Travel Insurance (as most people have their own insurance or wish to take out a policy to suit their personal situation)
Tips for Coach Driver
Fee and tip for Golf Fore-Caddies
Contact us now for details for the tours in 2019 and 2020.

Single supplement rates on request. Non golfer partners can be accommodated on tours. Travellers welcome from all countries.