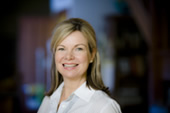 Hazel Thompson
B.Bus University of Ulster
Post Graduate Diploma in Management
Accredited to deliver adult education programs
MBA (Exec)(AGSM) (University of Sydney, University of New South Wales)
Member of Australian Institute of Company Directors
Values driven, tenacious, practical, caring.
Hazel has more than 25 years experience in general management, operations management, lecturing and senior business development management in Ireland, London and in Australia. She holds an Executive MBA from the top business school in Australia.
Prior to establishing Excelerator, Hazel worked with Ernst & Young for seven years as an Associate Director - Business Development in both the Sydney and Melbourne markets.
Skills and Attributes
Comprehensive experience in all areas of business management from operations management through to general management, being responsible for leading and motivating large teams of employees.
Strong business acumen and an understanding of the interventions required when looking at a business from a whole-of-business frame of reference.
Engaging and personable style that effectively relates to all levels.
Thorough and practical approach with an enthusiastic 'can do' attitude - committed, motivated and outcome-driven.
Effectively challenges team strategies and facilitates open discussion.
Personality utilised successfully and appropriately to energise groups and gain participation from all members - greatly assisting with change management.
Ability to design and implement business solutions - from needs analysis stage through to execution/facilitation and evaluation.
Proven coach of groups and/or individuals to achieve mutually agreed standards, goals or results.
High level planning and organisational skills, which ensure projects are planned and completed within set timeframe and budget.
Areas of Expertise
Business consulting
Firm Strategy
Business development processes and coaching
Client engagement and creating a market-oriented organisation
Relationship marketing
Strategic planning and forecasting
Marketing and Business Development plans
Account management
Tenders and Bids management
Change management
Training, coaching
Interests and Activities
Plays golf - handicap 19 (member of a sandbelt golf club), squash, plays violin, enjoys skiing, horse-riding. Member of Victorian Racing Club. Past Vice President of Business School Alumini, Melbourne.